The last couple of weeks is a prime example of why Louisiana is the sportsman's paradise.  I left the deer camp in time to drop off a couple of deer at the processers and head to Venice for six days of fishing. I tried to squeeze a duck hunt in between all of this but I couldn't seem to wake up. But I missed a easy and quick hunt with limits for everyone.  Now on to the fishing. I started this series of trips off with Franklin Hedley and his buddies from South Carolina. I had a tough act to follow since the last time they fished with me this summer we put 13 yellows in the boat and was home early.  This trip sarted off on the right foot with all the mullet you would ever want and plenty of perfect hardtails. The first fish of the day was a blue that popped up behind a mullet but he would never commit to eating. After that the grand tour of the gulf started we hit three more rigs and at the third rig we finaly managed to get something in the box a 29" yellowfin. The day was really not going well for us at this time. But I still had one more rig to hit. Thankfully this rig was holding some dolphin and we quickly put five very nice dolphin in the box for a pretty decent consolation prize. If you wanted to count all of the cudas it was a banner day for them.
  The following day I had Steve Gibishar and his wife out for Steve's 50th birthday. I was going to write something up but he beat me to it so I am just going to be a little lazy and copy his post.
Well we decided to go with Capt. Mike Ellis on Relentless for my 50th birthday fishing trip. It was definitely a good call. Capt. Mike has a very appropriate name for his business and boat as he was the most tenacious capt. I've ever fished with. He was relentless in trying to get us our tuna. I don't think I've ever fished with a harder working capt. and he was a genuinly nice guy. We're already trying to figure out how soon we can afford to go again.
One thing that differs from trips in Venice to trips in Florida is that you pay for a trip, not a specific amount of hours. I've been on boats out of Destin where we didn't have much fish when the bite picked up, only to have the capt. tell us that we were out of time and had to head back in. But for 175.00 an hour, we could stay out longer. With Capt. Ellis, we paid for a trip, and he was going to do whatever it took to get us our fish. We left at 6:00 in the morning and got back in at around 7:30 PM. The bite started late and he was determined to get us our fish. I spoke with him a few days after the trip and he said that he didn't get back in till midnight on his trip the day after ours. That's determination!
My wife Char thought the boat was comfortable.
[IMG]
[/IMG]
Here's our fist of four tuna coming up.
[IMG]
[/IMG]
This is where it all happens.
[IMG]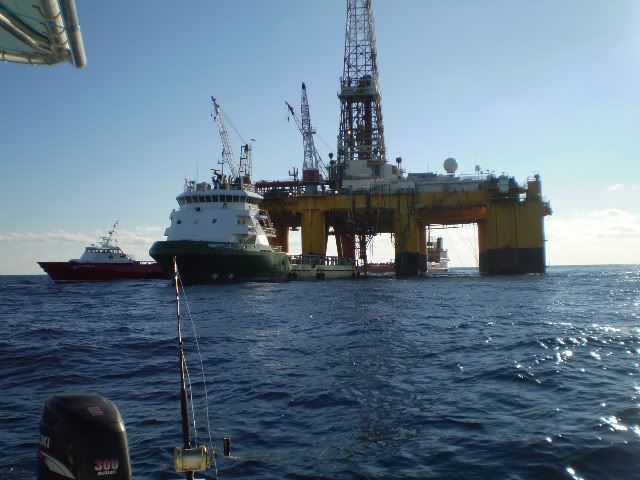 [/IMG]
Here's the Capt. himself.
[IMG]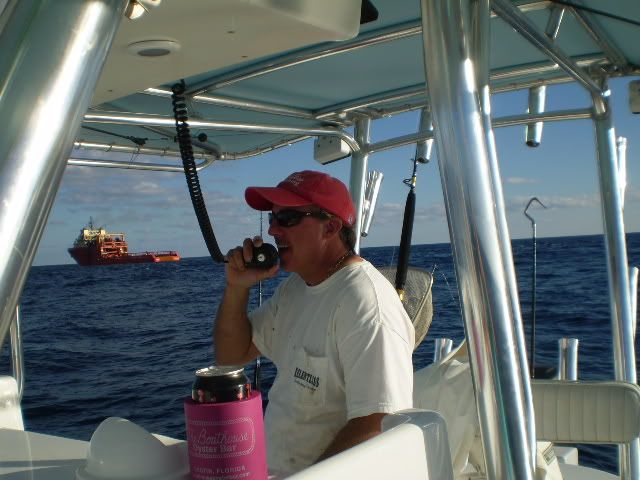 [/IMG]
I'm whooped on this one, it was a little bigger than the others.
[IMG]
[/IMG]
I finally won.
[IMG]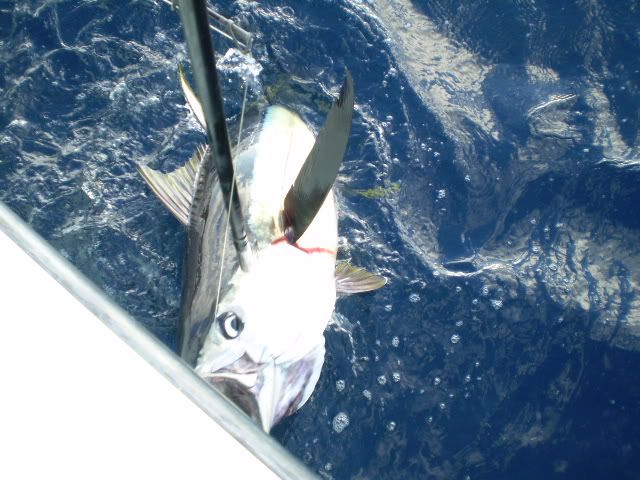 [/IMG]
This is what we went there for.
[IMG]
[/IMG]
My wife working on one. (counting the dolphin, she outfished me)(again)
[IMG]
[/IMG]
My wife savoring the heart of her first yellowfin.
[IMG]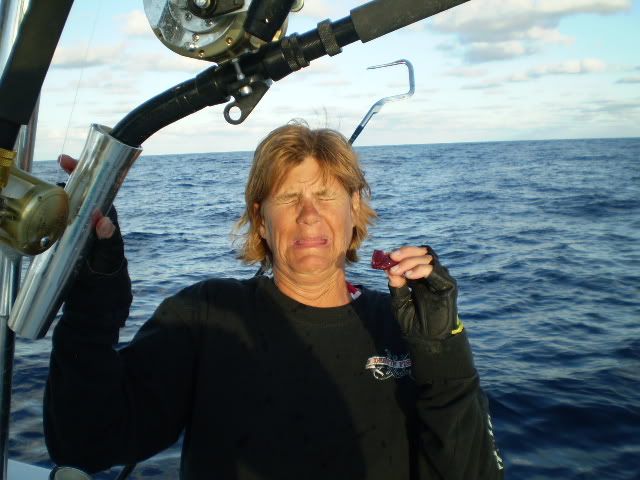 [/IMG]
My wife with one of her three dolphin, all about the same size.
[IMG]
[/IMG]
The final result, four yellowfins and three dolphin.
[IMG]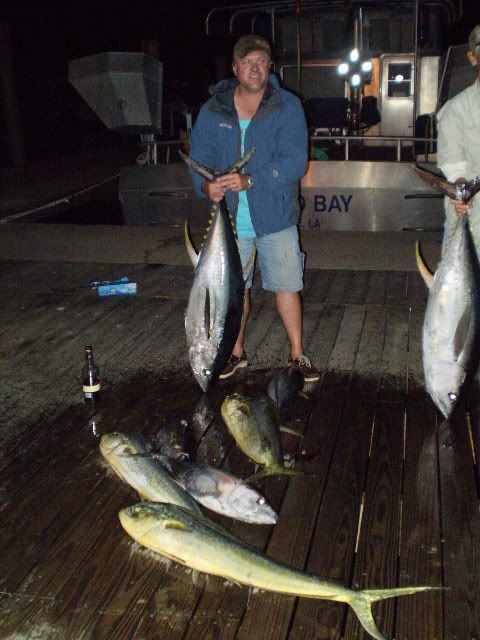 [/IMG]
I want to thank all the people who recommended Capt. Ellis as the trip made for a very memorable birthday. For those of you that haven't been tuna fishing in Venice, you're denying yourself a great time.